Regular price
Sale price
$48.40
Unit price
per
Sale
Sold out
Rhodiola & Schisandra contains Rhodiola root and Schisandra fruit to provide nervous system support during times of stress.*
These herbs have been traditionally used in herbal preparations to:
Help the body adapt to the changes of everyday life*
Maintain feelings of general well-being when experiencing temporary stress*
Help maintain proper energy and support healthy physical performance*
Work as a tonic to benefit the entire body*
The combination of herbs in Rhodiola & Schisandra contains many compounds including phenylpropanoids such as rosarin, rosavin and rosin (rosavins), salidroside (a hydroxyphenethyl glucoside), and dibenzocyclooctene lignans including schisandrin.
This product is standardized to contain 4.5 mg of rosavins and 1.5 mg of salidroside per tablet to ensure optimal strength and quality.
Rhodiola and Schisandra Quality Stories

Rhodiola Quality Story
Rhodiola rosea (Sedum roseum) is commonly referred to as Golden Root or Roseroot and grows in dry sandy ground at high altitudes in the arctic regions of Europe and Asia. The freshly cut root has a rose-like odor that has led to its botanical name and one of its common names. The root has been used for centuries in the traditional herbalism of Russia and Scandinavia. There are however 16 common species of Rhodiola growing in the Eurasian area. Of these, 11 have been tested in animal studies, but only R. rosea and to a far lesser extent R. crenulata have been assessed in human trials.
Most of the Rhodiola species have been reported to contain the marker compound salidroside and this was originally used to standardize extracts of Rhodiola rosea. After more than a decade of research, however, it was shown that the chemical composition of R. rosea root is, in fact, different to the other species of the genus Rhodiola. Using newly developed methods of analysis, it was shown that R. rosea root contains three cinnamyl alcohol-vicianosides: rosavin, rosin, and rosarin that are specific to this species. They are collectively termed rosavins. HPLC offers a ready method to differentiate true Rhodiola rosea from the other species offered on the market. The two major rosavins found are rosavin and rosarin, with only very low quantities of rosin.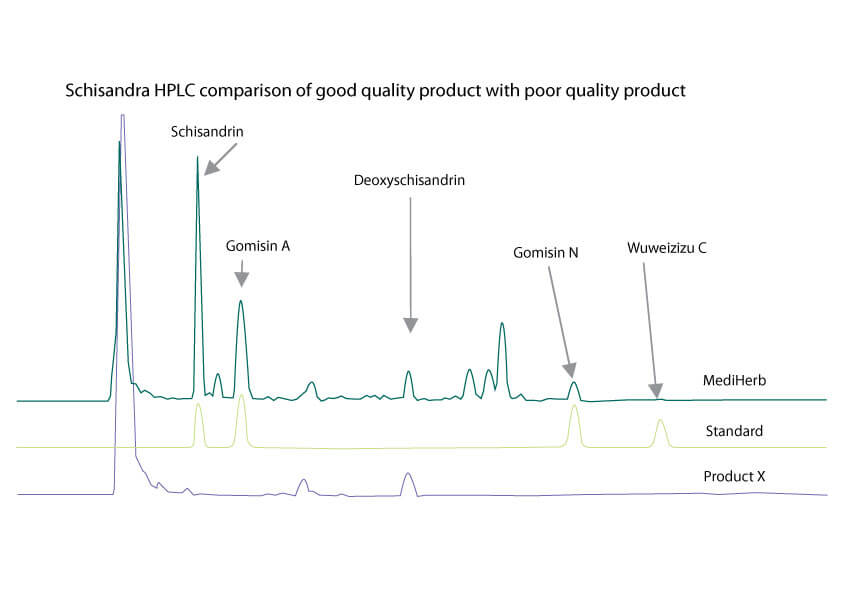 Schisandra Quality Story
Schisandra is a well known Chinese herb, however it is not well known that two species of Schisandra are used in TCM, the phytochemical profile of each being very different. Schisandra chinensis (northern Schisandra) is the preferred species in TCM and by Western professionals. It contains compounds called schisandrins (schisandrin, gomisin A, deoxyschisandrin, gomisin N and wuweizizu C) which are believed responsible for the clinical effects. Southern Schisandra, Schisandra spenanthera, (see Product X in the trace) is considered inferior due to lower levels of schisandrins, however it is often used interchangeably with Schisandra chinensis. Manufacturers therefore need to be very careful to avoid substitution with Schisandra spenanthera. The species are readily distinguishable morphologically and by HPLC. MediHerb routinely uses HPLC to ensure the correct identity and guarantee consistent levels of schisandrins.
---
Suggested Use:
1 tablet 2-4 times daily, or as directed.
Caution:   Not to be used during pregnancy and lactation unless otherwise directed by a qualified health care professional. For other contraindications and cautions or if you have a medical condition or are taking any medication, consult your health care professional. This product is packaged in a facility that manufactures other products containing soy, milk, egg, wheat, peanut, tree nuts, fish, and shellfish. Keep out of reach of children. Store in a cool, dry place out of direct sunlight.
---
Nutrients & Ingredients
Each Serving Size (1 Tablet) contains: Calcium 89 mg, Rhodiola root 4:1 extract 150 mg (from Rhodiola rosea root 600 mg, Containing salidroside 1.5 mg and rosavins 4.5 mg), Schisandra fruit 6:1 extract 110 mg (from Schisandra chinensis fruit 660 mg). Other Ingredients: Dibasic calcium phosphate dihydrate, microcrystalline cellulose, sodium starch glycolate, hypromellose, magnesium stearate and silicon dioxide.
---
For other contraindications and cautions, please refer to the Potential Herb-Drug Interactions Chart.
Please consult the actual product label for the most accurate product information.
*These statements have not been evaluated by the Food and Drug Administration. These products are not intended to diagnose, treat, cure, or prevent any disease.
Share
View full details
Labels and packaging may change without warning from manufacturer.
Please consult the actual product label for the most accurate product information and directions for proper use.
The Natural Alternative Nutrition Center does not provide medical advice or consultation. Consult your physician before ordering and/or using any product available on our website.
We do not guarantee carrier calculated deadlines for shipping.
* These statements have not been evaluated by the Food and Drug Administration. This product is not intended to diagnose, treat, cure, or prevent any disease.